Developers have started to create their own project precisely at the moment when gambling has been banned in many countries worldwide. For the conduct of such a business, people get serious punishments up to the prison sentence. Gaming clubs were closed, and entrepreneurs were forced to save their business in one way or another. Therefore, many of them have decided to move to the online space and create a casino on the Internet.
Specialists from Superomatic took into account all the nuances of the legislation and created something fundamentally new. This is how the Superomatic gaming system was launched. All information is placed on servers that are located on the territory of countries that are loyal to gambling, so the software is absolutely safe.
Unlike other gambling software, the Superomatic gaming platform can accept online payments for different purposes. You can pay for utilities, top up the mobile account, and much more. And of course, it includes payments for the ability to gamble. Thus, users have an opportunity to play their favourite Superomatic slot machines, place bets, withdraw money, and so on.
Thanks to this ploy, the Superomatic platform can't be formally considered an object related to the gambling industry. In fact, specialists of the company have shown off their intelligence and made the activity of their partner almost completely legal. It turns the online casino software into an excellent tool, with the help of which you will be able to set up a gambling business.
The most part of the platform's software is situated on servers that are located in countries that are loyal to gambling. In other words, the casino platform allows operators to legally organise and set up a gambling business and serve customers from all over the world. Players will be able to conduct financial transactions with the help of a payment system called Webcash.
The Superomatic gaming platform provides an opportunity to create a high-quality online casino, with comfortable conditions for players and convenient service for operators and employees. Another special feature of the Superomatic casino is that it does not leave any marks on the computer. Therefore, you can be calm and not afraid of inspections of law enforcement agencies – they will not find anything.
The supplier offers its customers to test the basic functionality of the product for free. So you can check all functions, play Supercomatic slot machines, see how everything works, and make your final decision based on your own conclusions.
Also, the developer offers its partners round-the-clock technical support, which always responds to any requests quickly and efficiently. Therefore, in case of any problems or disorders, casino owners will always be able to ask for help and get everything settled very fast.
After operators decide to purchase the software for online casinos from Superomatic, they will get an opportunity to provide their clients with a huge set of high-quality slot games. The portfolio of Superomatic consists of more than three hundred kinds of different entertainment that will suit every taste.
The Superomatic platform combines the best offers from providers worldwide. So each player will definitely find a slot game that they will like. By the way, despite the rapid development of the iGaming sphere and the release of new interesting games, many people still prefer good old classics.
By classical slots, we mean games with three reels, five lines, and a fruit theme. Users want the game has nothing in excess, only high-quality graphics, and the old-school gameplay? No problem! Using the described solution, operators will be able to please conservative gamblers with colourful and exciting games.
However, today, we should not forget about the generation of millennials, which wants to get only the newest and the most interesting products. The Superomatic gaming system will find something to offer for such an audience as well. Games of this company have modern advanced graphics, colourful animations, and original soundtrack.
There are even atypical video slots with six reels and non-standard functions, designed for gambling "gourmets". Moreover, the supplier always updates the portfolio and adds the latest and up-to-date developments from the world of iGaming.
However, the casino platform has not only slot machines in its list of entertainments. There is also a popular roulette (some of the most in-demand types), poker, blackjack, and other table games.
Since all the online casino software is represented by the world's leading providers, games will definitely capture the interest of gamblers, making them launch the reels over and over again.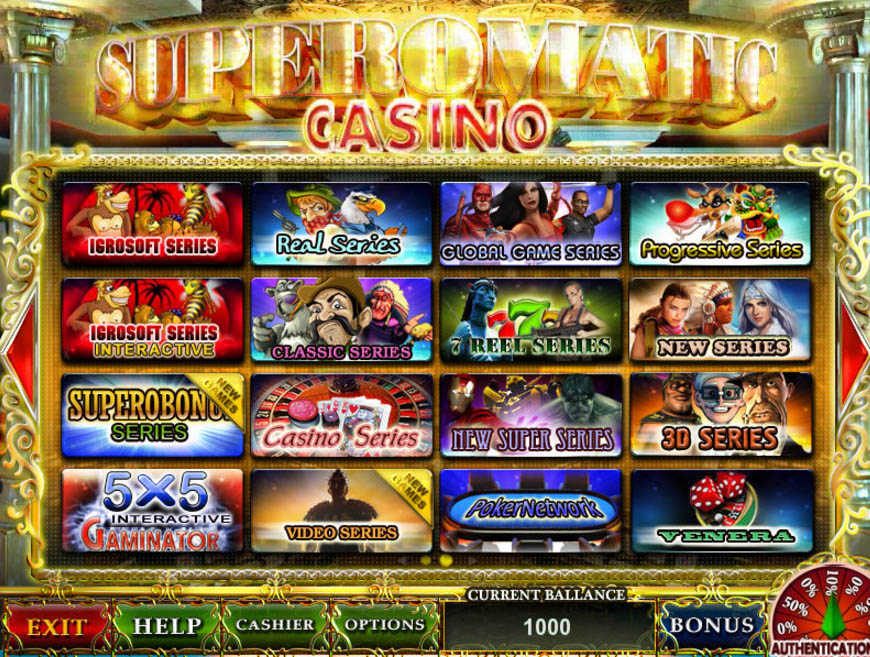 The platform has many advantages that its competitors do not have. First of all, of course, we should mention the built-in program, with the help of which it is possible to control almost everything that happens in a gambling establishment.
It makes it possible to tie the hands of fraudsters, who can be both among visitors and employees. If this is not the reason for you to purchase a ready-made online casino with the built-in system from Superomatic, then we go on.
Any action is accompanied by a report, which allows operators to react swiftly to all actions and take appropriate measures in proper time.
Among the positive aspects, special attention should be paid to the following ones:
Ability to customise the RTP. This option is applicable both for each Superomatic game and for the whole gaming system. We would like to immediately recommend operators not to set a too low level of return. Turning your project into a robber, you will immediately lose even the most loyal audience.
In case of the fault of the Internet connection, the whole gameplay will be saved so that gamblers can continue gaming the session at any time.
Absence of any failures. The software is hosted on reliable servers, which are also located on the territory of countries that are loyal to the gambling industry.
Technical support is provided by specialists who know their trade and solve any emerging problem quickly.
Cross-platform will enable gamblers to enjoy their favourite slot machines from any available device.
The gaming system has integrated the best payment systems, which conduct financial transactions quickly and charge a minimal commission.
It is worth noting once again that those entrepreneurs who work with this software should not be afraid of law-enforcement agencies. Developers have done everything in such a way that formally you will not be the organiser of gambling. Therefore, the decision to purchase the casino software on the basis of the Superomatic software will be very wise.
Are you interested in this offer? Then contact Rosloto. Here you can buy an online casino on a turnkey basis with a customised platform and everything that you need to run a business. The decision to purchase a ready-made online gambling establishment will save you from unnecessary problems and help you to launch the project within a short time. In addition, the company offers a number of services for the development of the gaming site.
Do you want to be the leader of the gambling market? Now you know who it is necessary to contact.