The Superomatic gaming system was created at the time when there were already a lot of online casinos in the world, and when gambling was already banned in many countries. The developers did their best to protect their products from possible troubles that happened with many gambling establishments.
So this is how the Superomatic system appeared, radically different from a gaming program by its ability to accept online payments for products and services. The list of such payments includes payment for cable TV services, for mobile communications, and for utility services. This list also includes payments for games played in online casinos. Users can easily deposit funds, place bets of any size, withdraw money from the account, etc.
Thus, the activity of the Superomatic gaming system is not a kind of gambling, it does not come within the purview of the gambling law. However, it has business partners, with which the system enters into agreements.
As we have already mentioned above, with the help of Superomatic you can make payments but its main advantage is a unique gaming product. It has several characteristics that have made the company a leader among gambling solutions.
To install Superomatic, you do not need to download any complicated programs and try to understand them for a long time.
You can play on the Superomatic Casino website from any device – a tablet, a laptop, a mobile phone or a computer.
It is safe to gamble in this system since all information is stored on secure servers and is transmitted through the use of reliable protocols.
The Superomatic gaming system for online casinos provides players with fifty thousand credits for free!
The system outclasses the competition mostly by the fact that it has a built-in program that displays reports on all processes that take place in the system. Therefore, fraud is excluded here — neither users nor staff representatives can do anything without being noticed. Each action in the system has a special report — both on gaming processes and on financial transactions.
Technical characteristics of the Superomatic Casino have a lot of advantages:
Players can adjust the winning percentage.
There can be no failures on the platform — both games and payment systems work seamlessly, thanks to reliable servers.
Technical support is provided only by professionals, which allows you to solve all possible issues even before they occur.
The Superomatic casino supports popular OS (Windows and Linux).
Only transparent payment terminals operate in the system, which guarantees that all transactions are honest — both in the accounts of the Superomatic Casino and also if you pay for other online services.
We would like to remind you that gambling problems will not be connected with this system since it does not refer to the gambling equipment and its partners are not considered to be organizers of the gambling activity.
The number of games exceeds two hundred fifty, and all of them are products of famous and respected suppliers.
Experts believe that the quality of games is very high: graphics and sound meet all wishes of customers and partners of the system.
The collection of games is constantly updated with new advanced options that do not need to be installed on your own — the system does it automatically.
All actions of users in the Superomatic Casino are saved in the memory of the system and can be continued even after the connection with the Internet failed.
Mathematics of games is characterised by innovative solutions and can make players want to stay on websites.
Superomatic offers its users a wide range of popular and exciting games, including roulette, poker, other card games, and, of course, slot games from well-known suppliers (Microgaming, Novomatic, Amatic, and others).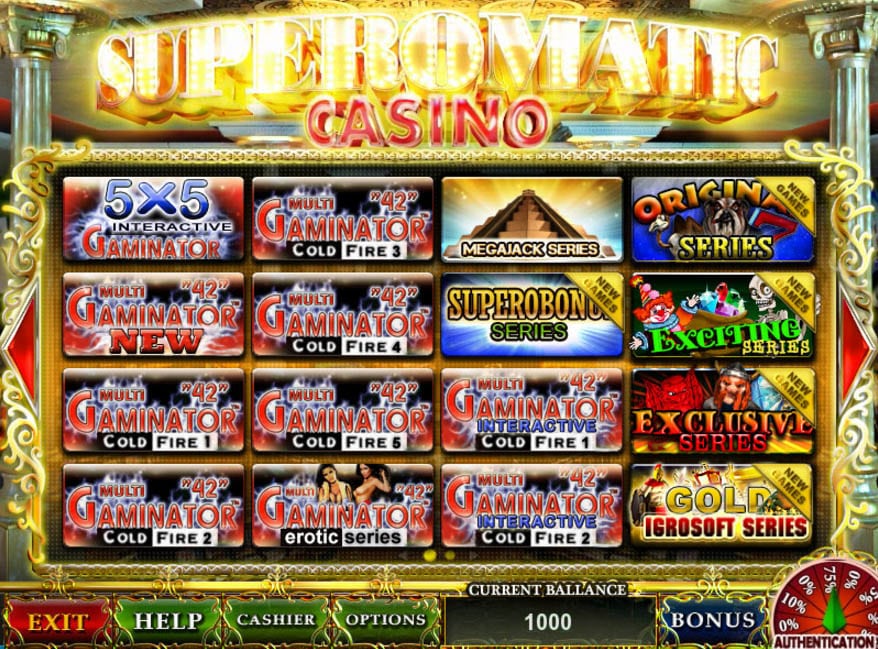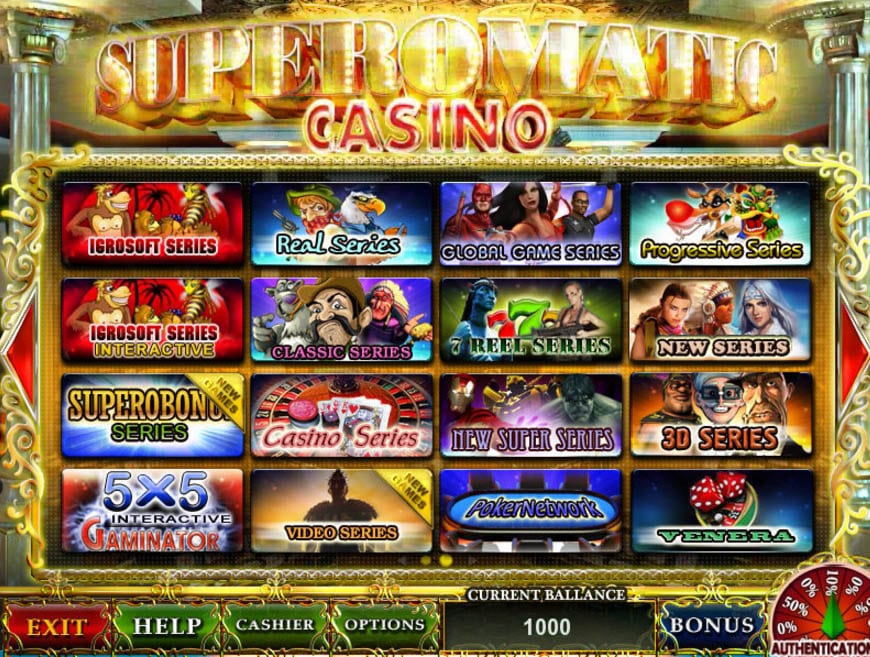 The gaming system is known for its Flash games created by high-calibre professionals. It is about video slots built on the basis of well-known storylines, the main characters of which are from movies and cartoons that are familiar to everyone.
The Flash format helps manufacturers to make real and fascinating stories of slots, and a high-quality animation takes players to the world of adventures and travels. Experts call these games, which are so similar to reality, the product of a new generation.
It is worth noting that it is possible to play Superomatic Flash games on any browser, they can work without problems on the Android mobile platform and, of course, on all known devices — computers and tablets of any brand. It is not necessary to download them.
Slots are made in a 3D format to make players feel like they are inside the game. Moreover, users are attracted by high-quality graphics and sound, as well as unique functional qualities. All games are filled with bonuses and prizes and have progressive jackpots.
The original Superomatic gaming system guarantees its owners a good and, most importantly, regular income.
It is possible to purchase the system from well-known suppliers, including Rosloto.
Connect Online Casino Demo
And work the first 10 days for free! Test your business before buying.