It is hard to imagine happy and productive holidays without exciting online slot machines. The Rosloto company has made a detailed review of New Year's slots, which you should definitely play on New Year's Eve.
Our list contains stylish and colourful slots with a well-thought-out set of options. Realistic 3D animation and amazing music only make the takeaway from the products stronger.
These slots are characterised by unparalleled generosity. They allow both ordinary players and casino operators to earn good money.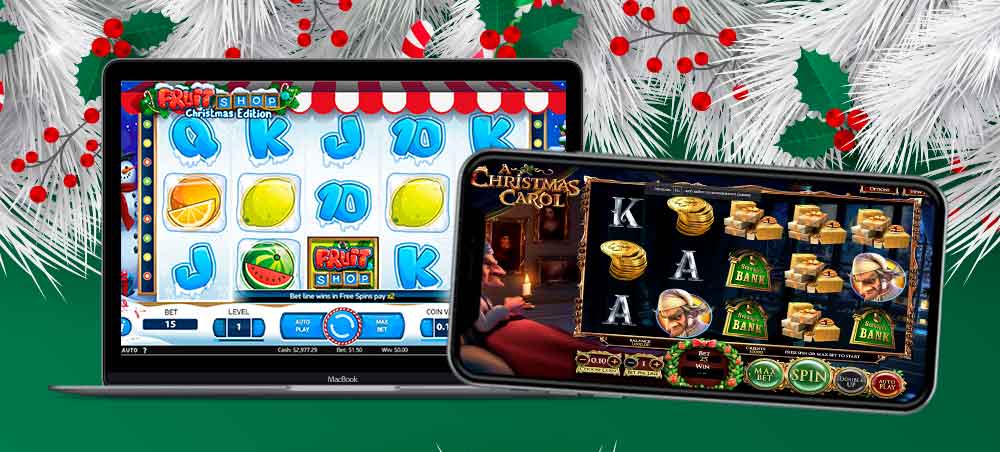 You can buy New Year's machines from the world's leading providers or order the development of games according to individual sketches from Rosloto. We guarantee a unique approach and the highest quality of turnkey solutions.
New Year's slot machines from Microgaming have a well-thought-out design and symbols of this wonderful holiday. This approach was also used in the Happy Holidays video slot. The developers wish everyone happy holidays and offer to play a generous online slot machine.
Many slots from Microgaming have original gameplay, and this one is no exception. There are no familiar fixed paylines, and the formation of winning chains can be done in 243 ways. This number increases to 1024 when free spins are activated.
The colourful visual design makes gamblers like the game even more. On the five reels, there are an elegant Christmas tree, multi-coloured toys, mouthwatering cookies, and sweet kids.
These Christmas-themed slots from Microgaming are extremely stylish. This is a winter modification of such popular solutions as Fruit Shop and Flowers, which were released a year earlier.
The updated New Year's slots have been successfully adapted to the holiday theme. Snowdrifts were used as the background image and icicles, beautiful snowflakes, and icy objects became part of the decorations of the panel.
The described slots for the New Year have improved functionality. For example, free spins have interesting bonuses, which expand to full screen when they appear on the panel. This game has many double images that bring bigger prizes.
In general, Fruit Shop: Christmas Edition and Flowers: Christmas Edition look very attractive and profitable: it only remains to launch the reels.
This is a beautiful solution from Novomatic with huge payouts that will provide you with a good mood for the whole year. The title of the online slot machine reminds players of the line from the famous Christmas song ― Jingle Bells. The melodious soundtrack of Bing Crosby is also the background sound of the game, and it creates a warm and cosy atmosphere.
The main feature of the slot is the presence of four progressive jackpots. They are ranked according to the card suit: from spades to diamonds. Jingle Jackpot from Novomatic also has a double wild symbol and impressive multipliers.
This is one of the best slots of the season, which gives a lot of positive emotions on the eve of the New Year holiday. New Year's casino games from Betsoft were always famous for their well-thought-out gameplay, and A Christmas Carol is no exception.
The plot is based on a cautionary tale about the miser Scrooge of the famous writer Charles Dickens. On the eve of Christmas holidays, the main character meets three ghosts who symbolise his past, present, and future. Gamblers go on an exciting journey with Scrooge, and along the way, they are provided with an opportunity to win valuable prizes.
Graphics here are of the highest quality and realistic. It creates a strong feeling of watching a full-length film in the HD format.
This from NetEnt is kind and atmospheric. New Year's machines of this manufacturer have always been distinguished by original options that provide large payouts on the eve of the Christmas holidays.
Secrets of Christmas has free spins, a wild symbol, and a scatter, as well as good multipliers that double the current size of a prize.
To play this online casino slot is a piece of cake, especially when you want to take a break from the holiday fuss. Worthy bonuses that will be activated as the game unfolds will surely bring joy and positive emotions to gamblers.
This is another video slot the plot of which was based on the writing of Charles Dickens. However, this time, it is the developers from Playtech who have presented their interpretation of the amazing story.
The first thing that catches your eye when you get acquainted with the game is a stylish design with a bit of self-irony: the main character who looks really upset and a carelessly pulled chicken that is "standing in the wings" lying on the tray. The bacon-faced partner of Scrooge, who is chained for some reason, also causes laughter.
The most expensive element in the interface is an antique wall clock. They launch an additional gambling round, during which the main character is visited by ghosts from the past, present, and future. Users will go on an exciting journey with Scrooge because this is a great opportunity to get valuable prizes.
The Playtech team often releases dynamic slots on Christmas Eve, and this time, they introduced the Santa Surprise game. The product has two bonus rounds at once.
In the risk-game, gamblers will have to guess the colour of a turned-over card (black or red) and double their winnings. The Christmas Gift Bonus round opens Santa's hiding place where six gifts are hidden. There are multipliers, extra spins, and gold coins.
All Playtech slots have amazing graphics. On five reels, there are bells, a luminous Christmas tree, and socks with sweets. Card denominations are also used here. They were decorated with green fir branches, Santa's hat, a warm scarf, and bright bows.
Microgaming specialises in Christmas-themed colourful slots and releases them every year. The Ho Ho Ho solution was created first: the game was presented back in 2004.
Someone may think that the graphics of this video slot is too simple and the gameplay is ordinary. Nevertheless, any review of slots for the New Year will be incomplete without mentioning this product.
It has five reels and ten fixed lines. The symbols here are attributes of a traditional Christmas dinner: a baked turkey and a cake, a milk dessert with ginger cookies, and sweet candies in a bright wrap.
This is a dynamic story about the adventures of Santa Claus and his girlfriend Snow Maiden. The developers portrayed the protagonist as a real biker who is riding a cool motorcycle. Throughout the game, Santa not only manages to deliver all the gifts but also visits a cafe with delicious hamburgers and beer.
Like many slots from Microgaming, Santa's Wild Ride has a non-standard approach to the formation of successful combinations. Instead of the fixed lines, there are 243 potentially winning blocks. This is a high indicator, which will definitely attract new players to any New Year's casino.
Microgaming loves to release slots that are a direct reference to a specific event or work of art. In this case, the provider was inspired by the melody the Bing Crosby's Jingle Bells song. The composition is constantly included in the ratings of the best Christmas songs and can often be found in famous movies.
It is logical that the most expensive combination is a line of three golden bells. They will immediately bring six thousand coins. Three red sevens, which are also referred to successful combinations, bring a bit smaller prize. This online slot is made in traditional red, green, and golden Christmas colours.
It is hard to imagine a New Year's casino without such an attribute as Microgaming slots. The developer has an original approach to many traditions for Christmas. A vivid example is the Gift Rap solution.
The main characters are cute elves who like good rap. They are dressed in stylish biker jackets and warm hats, so they look even funnier and positive.
The online slot machine, like other New Year's machines of this brand, consists of five reels and ten paylines. Scatter, wild, and free spins are also provided.
The online game Holly Jolly Penguins is designed in the spirit of winter holidays. The main characters are four funny penguins, and gamblers will watch their adventures. Users are going to enjoy fabulously beautiful landscapes, excellent 3D animation, and pleasant music.
Bonus options include eighty free spins. All prizes earned during free spins are doubled. Like many Microgaming slots, this solution has such special symbols as scatter and wild. The biggest prize here is 2,500 coins.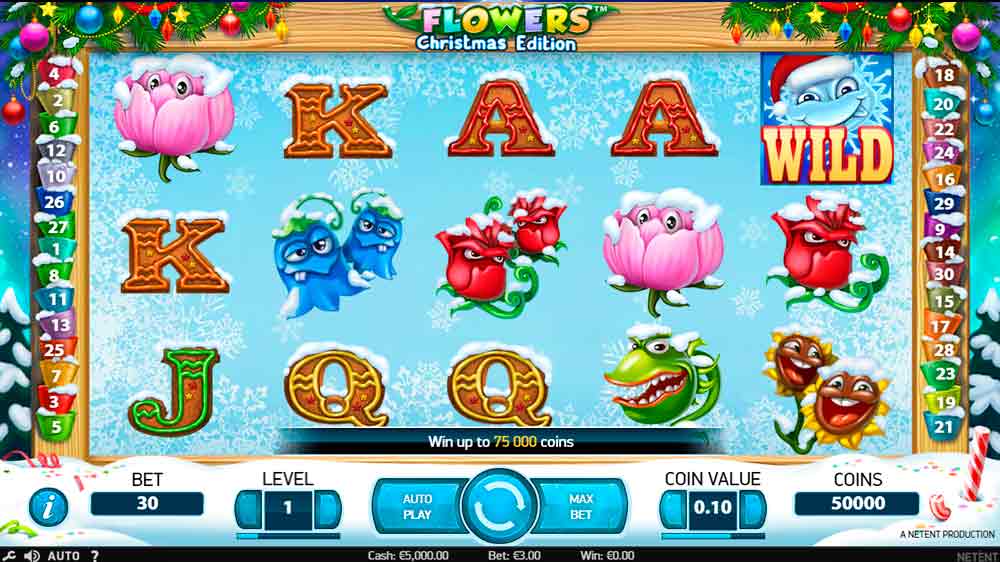 Rosloto has been cooperating with the world's leading developers of the game content for many years. In our catalogue, you can find slots from such famous providers as Playtech, NetEnt, Novomatic, and many others.
Partnership with large online casino software vendors allows us to be flexible in terms of the cost of slot machines. Buy New Year's slots from Rosloto and see for yourself.
Rosloto also independently develops slots that are based on the sketches and wishes of clients. As a result, customers receive a unique product with multifunctional mechanics, which will become the gem of your virtual gambling platform.