Why do people become wiser on Wednesdays?
Why does thunder occur more frequently on Thursdays?
Why do you feel more love on Fridays?
Easy! That's because these days of the week are named after the Norse Gods and Goddesses! The Gods of the legendary Asgard, to where only the famous rainbow bridge Bifröst can bring you. A place where myths come true and mouth-dropping scenery exist alongside the fantastic heroes.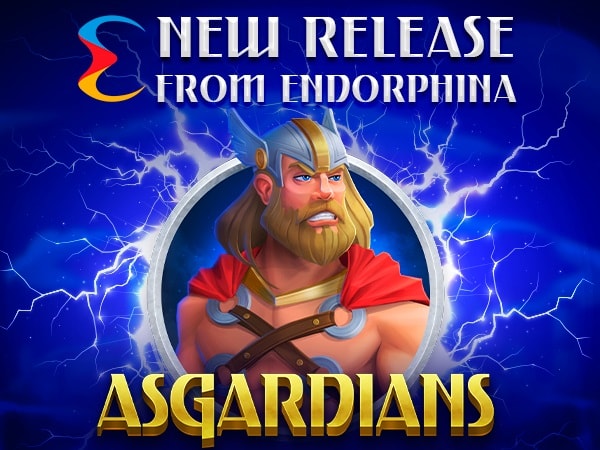 The provider of unique and creative slot games, Endorphina, has just released its fascinating new slot on Odin's Day (Wednesday) — the 13th of May to get players immersed in a Norse mythology-inspired adventure. Inside that slot, they can prove whether or not they are worthy enough to be welcomed into the halls of magical Asgard by the king himself.
Asgardians is a mighty 5-reel, 3-row, and 25-line thunderous slot game. It also has a Pick Bonus and a Free Spins feature. If a player gets three or more symbols with Rainbow Bridge — the Scatter symbol — the Great Hall will open its doors in front of them as well as the Free Spins feature.
During ten free games, all the wins are Tripled. If the players get three or more symbols of Mjölnir, they can enter the famous Forge, where they will be able to play the pick bonus game. In which they can test the strength of the shields made by the best craftsmen of Asgard.
Spinning Thor's hammer and hitting the shields will bring the players colossal prizes. Players shouldn't forget the rule of the Forge: once a shield is smashed — the game is over.
The players must watch out for the spell made by the mischievous Loki — the trickster God. No wonder he is a Wild symbol that substitutes for all symbols except for the scatter and bonus!
Unlike Loki, the powerful and beautiful Freya helps the heroes to be more creative and inventive. Inspired by Freya's influence on the other Gods, Endorphina expanded its creativity even more and made sure that its visuals, sounds, and details all aligned. Every player will definitely notice the exquisite graphics, mathematics, and original music with a Scandinavian twist!
Interested in stepping into the world of Asgard to play Endorphina's epic new slot? Check out their game https://endorphina.com/games/asgardians — which is completely inspired by the Nordic culture and a complementing addition to Troll Haven — another Scandinavian themed slot by Endorphina.
Dive into the game's thrilling atmosphere and do your best to impress the Gods of Asgard.
Connect Online Casino Demo
And work the first 10 days for free! Test your business before buying.